Presentation of the Forum
On the occasion of its 50th Anniversary, the A.T.S.R is holding its 5th Radioprotectique* European Forum on the theme of Decommissioning.
Six years after the success of its previous edition, we believe that it would be useful to provide an update on the companies, methods and tools currently being used.
Dismantling a plant or a site is a key milestone that involves many actors and partners as well as related companies, methods and savoir-faire. In order to reach this milestone successfully, it is important to demonstrate the ability to master the following: Safety, Security, Economic and Media related stakes, Technical and Human challenges.
Radiophysicists must adapt to the wide range of partners and activities that always require more performing tools. It is also necessary to take radiation protection into account as early as possible and as much as possible, in the earliest days of a project to ensure appropriate monitoring both of plants and employees and to limit radiological impacts.
The objective of this event is to offer all professionals of the nuclear industry the opportunity to discuss specific themes such as challenges of decommis­sioning operations, feedbacks, tools and techniques used to ensure compliance with radiation safety requirements.
The Organizing Committee
*Radioprotectique: Consistency between nuclear related means and methods in order to improve radiation safety. Sciences and technics applied to ensure the latest consistency.
(This term was first used at the 1st forum arranged by the A.T.S.R, which took place in Port-Camargue, France, in 1987.)
Online registration
(in French)
---
Deadlines
Early bird registration:
until 1 September 2016
Deadline for abstract submission 'poster':
Monday 5 September 2016
---
Program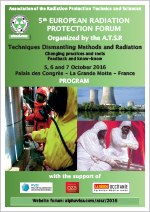 Download PDF
---
Association
Become a member of the A.T.S.R and benefit from reduced registration fees: