Welcome to the 2021 ESVCP-ECVCP @nline annual congress
Dear ESVCP-ECVCP members and colleagues,
We are pleased to announce that the 2021 ESVCP-ECVCP @nline annual congress will be held virtually this year from October the 13th to the 16th.
Owing to the complicated health situation, we felt that this was the only way to maintain our meeting while ensuring safety for all.
The congress will offer lectures from international experts, round tables and working groups supervised by qualified clinical pathologists. The congress will address the different topics of clinical pathology in the different species through the most advanced scientific knowledge.
To add a little fun and games, don't forget the Mystery Cases session and check out the new feature of this conference with a Photo contest where you can win a cytology book.
We are looking forward to your participation.
Executive and Scientific Committees
Francesco Cian, Delphine Rivière, Benoit Rannou and Cathy Trumel
---
Important date
Abstract submission until:
31st August 2021
---
Program at a glance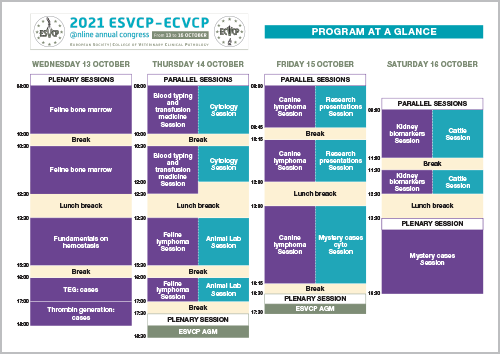 Download PDF
---
Committees
The executive committee of the congress is composed of the following members:
• Francesco Cian
• Delphine Rivière
• Benoit Rannou
• Cathy Trumel