Welcome
Word of Welcome - Invitation
On behalf of The European Association for Veterinary Pharmacology and Toxicology (EAVPT) and The European College of Veterinary Pharmacology and Toxicology (ECVPT), we are delighted to invite you to the 13th EAVPT International Congress to be held at the "Cité Nantes Events Center" in Nantes (France) from 19 to 22 July 2015.
The aim of the congress is to bring together, research scientists and veterinarians active in the field of veterinary pharmacology and toxicology with representatives of regulatory authorities and the pharmaceutical industry.
The congress program will cover a broad area of topics, including:
Antimicrobials and antimicrobial resistance
Antiparasitics and antiparasitic resistance
Applied biostatistics
Clinical toxicology and eco-toxicology
Contaminants
Drug residues
Drug transporters and biotransformation
Endocrine disruptors
Evidence-based veterinary medicine
Experimental design. In vivo and in vitro methods
Innovative learning on pharmacology, toxicology and therapy
Pharmacodynamics/Toxicodynamics
Pharmacokinetics/Toxicokinetics
Pharmacovigilance/Toxicovigilance
PK/PD modelling
Preventive medicine: probiotics, prebiotics, herbal products and other functional ingredients
Recent and innovative advances in veterinary drug
Regulatory toxicology
This congress Website (https://www.alphavisa.com/eavpt/2015) will keep you informed about the scientific program, registration and accommodation, abstract submission, sponsors, the social program and tour opportunities, and contact details.
We look forward to hosting you in Nantes for the EAVPT 2015 Congress.
Pr Jean-Claude Desfontis
Chair of the executive committee
Pr Johanna Fink-Gremmels
President of the EAVPT
---
---
Deadlines
30 March 2015:
Deadline for abstract submission
---
Early bird registration
until 30 March 2015
---
Announcement poster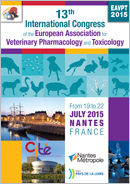 ---
Institutional partners