Welcome
Dear Colleagues
This year marks an important milestone in the history of Laboratory Animal Medicine and Science in Europe as ESLAV celebrates its 20th anniversary! Since its creation in 1996, ESLAV has grown as a strong organisation and is recognised as a leading voice in Europe. For the last 20 years, ESLAV has contributed to significant developments in the field of animal research in partnership with ECLAM. As the field of animal research continues to evolve, so will opportunities for veterinary contributions to science and animal welfare. We therefore believe that the future will bring new and valuable facets to the work of laboratory animal veterinarians. With this in mind, ESLAV and ECLAM are working together on the preparation of their next three Annual Scientific Meetings, and an exciting new educational programme that will benefit newcomers as well as also those that are more experienced ones.
We are delighted to inform you that the 2016 ESLAV-ECLAM Annual Scientific Meeting will take place from 15th to 18th November in Lyon, France and will include different workshops. This year, the theme of Animal Welfare has been chosen to celebrate ESLAV 20th anniversary as it represents one of the key aspects of the role of laboratory animal veterinarians. Lyon is a city that is easily accessible by plane and train, and its renowned gastronomy will no doubt contribute to make the meeting a memorable event. The very first Veterinary School was founded in Lyon in 1762 by Claude Bourgelat!
The scientific programme will start in the afternoon of 15 November by keynote lectures and will cover four main areas of animal welfare from the perspective of the research setting and beyond:
1 - Why it matters;
2 - How to better understanding animal needs;
3 - How welfare can be measured;
4 - How to promote a culture of animal care and welfare.
The programme and high quality speakers will attract many professionals with an interesting various aspects of Animal Welfare, making the event a unique opportunity for networking and exchanging ideas.
We look forward to seeing you all in Lyon on 15-18 November,
José Manuel Sanchez Morgado, ESLAV President
Ghislaine Poirier, ECLAM President
Do you wish to register?
---
---
Deadline
Last day for early registration (reduced fee):
21 October 2016
---
Announcement poster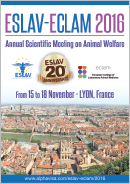 Download PDF
---
Affiche du colloque
Toutes les conférences en anglais seront en traduction simultanée !
Les ateliers également seront dispensés en français et en anglais !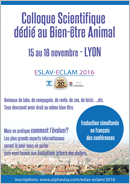 Télécharger le PDF
---
Become a member of ESLAV and benefit from reduced registration fees:
Seeking to apply for the ECLAM Diploma Examination: