Welcome
Dear colleagues,
We are pleased to invite you to the 3rd international IPM Conference in Museums, Archives, Libraries and Historic Buildings that will take place on 13-15 September 2016 at the Auditorium of the Louvre Museum, Paris.
The conference languages will be French and English, with simultaneous translation.
This conference is aimed at heritage institutions professionals involved in preventive conservation or pest management (insects, microorganisms, rodents, birds ...).
The conference will present current practices and prospects on IPM strategies: detection, prevention and fight against pest, applied to cultural heritage.
Workshops will also be organised in IPM pest management in heritage institutions on Monday 12 September 2016.
The organizing committee
ARACHNet
Association for Reseach and Assessment of Cultural Heritage - the Network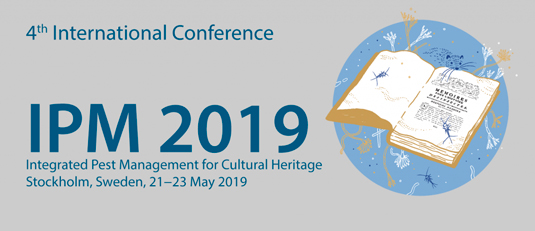 Calendar
Postprint publication in the autumn of 2018
Next symposium in May 2019 in Stockholm
---
The conference proceedings, IPM 2016, are available as a downloadable pdf
Download here
---
Program
---
Announcement poster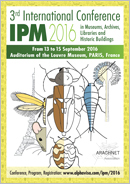 Download PDF