Welcome
Dear Colleagues,
We are pleased to invite you to the Annual Meeting of the French Society for Immunology (SFI) that will be held at Lille Grand Palais from 4 to 6 November 2014.
For the first time, the Annual Meeting of the SFI will be co-organized with the French Cytometry Association (AFC). Moreover, SFI has established partnerships with the Belgian Immunological Society (BIS) and the Inflammatory Rheumatisms Group of the French Society of Rheumatology (CRI).
As SFI and AFC decided to join their annual meeting, shared sessions and workshops are planned: one plenary session (Stem cells) and 6 workshops (Anti-Tumor Immunity, B Lymphocytes, Inflammatory Bowel Diseases, Lymphocyte Homeostasis, Microbiota, Small RNAs and Transcriptomics).

The SFI will offer 4 other plenary sessions (Infection and Immunity, Inflammation, Cancer, Metabolism and Immunity) and 12 other workshops (Myeloid Cells, Neutrophils, Anti-Viral Immunity, Host-Pathogen Interactions, Allergy, Auto-Immunity, Vaccination, Tolerance, Chronic Infections, Immune System Ontogeny and Ageing Immune Therapy and a Continued Medical Education session). In parallel, the AFC will offer 6 other workshops focused on Hematology, Microbiology, Plant Biology and Imaging. Finally, a one-day Educational workshop on "Autophagy" will take place on Monday 3 November 2014 at the Pasteur Institute of Lille.
This exciting scientific program features presentations by renowned researchers and also includes three keynote lectures and the delivery of the Jacques Oudin Award for excellence in Immunology research.
In addition, we have put special emphasis on providing young researchers with the opportunity to discuss their work through abstracts that will be selected for posters or for oral presentations (4 abstracts per thematic session). Several oral and poster presentation awards will be given out during the meeting.
Therefore, this meeting co-organized by SFI and AFC aims to bring together students, basic science researchers, clinicians and practitioners as well as professionals from the health industry in a forum to exchange and discuss current ideas, concepts and discoveries.
Sincerely,
Joël Pestel
On the behalf of organizing and scientific committees
Do you wish to register?

Online registration (in French)
---
Information
To apply for the Jacques Oudin Awards: check terms and conditions of participation (in French)
---
Announcement poster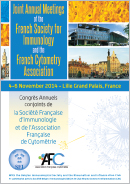 Download PDF
---
Planning at a glance

Download PDF
Exhibition floor plan

Download PDF
---
Become a member of the SFI or AFC and benefit from reduced registration fees: