Access to the symposium venue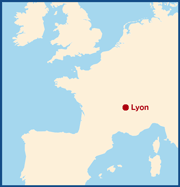 Université Lumière Lyon 2
Berges du Rhône campus
18, quai Claude Bernard
69007 Lyon, France
Access to the Berges du Rhône campus
Public transportation
Travelling to the Berges du Rhône campus by public transport
Public transportation network
4 subway lines + 2 funicular railways
5 tramway lines
over 130 bus lines
TCL information (City transportation in Lyon): www.tcl.fr/en
Bicycle
Unique in Europe at such a scale, Vélo'V offers, on a self-service basis, a fleet of more than 2 000 bikes available throughout the city.
Vélo'V information: www.velov.grandlyon.com
By plane
Lyon Saint-Exupéry - International Airport
Regular flights to:
52 international destinations
28 destinations in France
Low cost flights with Easyjet
Lyon Saint-Exupéry information: www.lyonaeroports.com
An express tramway, Rhônexpress, will link the Lyon-Saint Exupéry International airport to the central Lyon Part-Dieu railway station in 25 minutes. Departures every 15 minutes.
Rhônexpress information: www.rhonexpress.fr
Air France
Tel: +33 (0)892 702 654 from abroad
Air France information: www.airfrance.fr
You can benefit from the special congress rate (35% to 60% of the Air France rate depending on availability) if you book via the following link:
www.airfranceklm-globalmeetings.com/?eid=26372AF
By train
Connections with several European cities such as: Geneva, Brussels, Turin, London. The airport of Lyon is also served by a station TGV(HST).
TGV(HST) Paris – Lyon:
23 round trips every day in the week in 1h53'
TGV(HST) Marseille – Lyon:
31 round trips every day in the week in 1h40'
SNCF
www.voyages-sncf.com
www.tgv.com