Venue & access
Meeting venue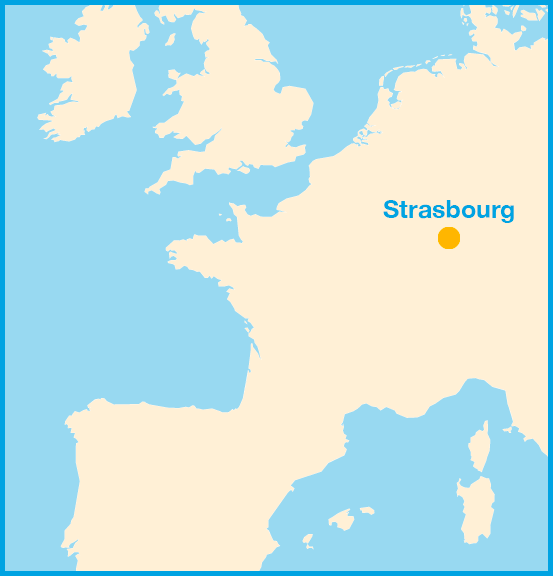 Palais des Congrès de Strasbourg
Place de Bordeaux (avenue Herrenschmidt)
67000 Strasbourg - France
Tél. : +33 3 88 37 67 67
Access map: Map - www.google.com/maps/place/
---
Travel by public transport
The tramway links the TGV station to the Congress Center in 20 minutes:
Tram line D (direction 'Aristide Briand'), 'Homme de Fer' stop
and Tram line B (direction 'Hoenheim Gare'), 'Wacken' stop.
'La Compagnie de Transports Strasbourgeois' information (City transportation in Strasbourg): www.cts-strasbourg.eu/en/
---
Meeting access
By car
Highway A4, exit 'Wacken / Institutions Européennes':
Exit 2 minutes from the 'Palais des Congrès'
Paris-Lyon axis A35 / Grand Est axis A4
Connections 'Benelux' / German freeways via the Europe Bridge, 10 minutes from the 'Palais des Congrès'
Maps and itineraries: Map - Michelin - GoogleMap
Parking
250 free parking spaces on site and a 570-space park-and-ride facility nearby.
For more informations: www.cts-strasbourg.eu
---
By train
The 'Strasbourg TGV Grand Est' station is 20 minutes by streetcar from the event venue.
16 daily return trips to Paris in 2h20 - Paris Charles de Gaulle in 2h25
Lille in 3 hours
Lyon in 3h50
Departures to Baden-Baden, Basel, Bordeaux, Dijon, Frankfurt, Karlsruhe, Lille, Lyon, Mannheim, Marseille, Montpellier, Munich, Nancy, Nantes, Rennes, Stuttgart, Zürich...
Direct connections to Brussels and London via Paris
SNCF
Information and reservation: www.sncf-connect.com/en-en/ - www.sncf.com/en/
---
By plane
The international airport 'Strasbourg-Entzheim' is located 20 minutes from the 'Palais des Congrès'.
13 flights per day 'Paris Orly': 1h
4 flights per day 'Paris Charles de Gaulle': 1h10
22 direct destinations in less than 2 hours: Ajaccio, Amsterdam, Barcelona, Bastia, Biarritz, Bordeaux, Brussels, Lille, Lyon, Marseille, Montpellier, Nantes, Nice, Prague, Rome, Toulouse, Venice, Vienna...
+ 204 international destinations via Paris
For more informations: www.strasbourg.aeroport.fr/en
A shuttle-train connects the airport to the Strasbourg train station up to 5 times per hour in 8 minutes: Shuttle-train service
Air France
Tel: +33 (0)892 702 654 from abroad - wwws.airfrance.fr/en/information

You can benefit from the special congress rate (up to 15%, on a wide range of public rates on all AIR FRANCE, KLM flights and their code-share flights) if you book via the following link:
http://globalmeetings.airfranceklm.com/Search/promoDefault.aspx?vendor=AFR&promocode=38765AF
Taxis
www.strasbourg-taxi.fr - Tel: +33 3 88 122 122
en.taxi13.fr - Tel: +33 3 88 36 13 13
www.taxistrasbourg67.fr - Tel: +33 3 88 27 27 00