Welcome
Dear Colleagues and Members of the French Society for Immunology,
Immunogene editing is based on the use of engineered gene-specific nucleases or 'molecular scissors' permiting to insert, delete or replace DNA in the genome of an organism. This technique that has created a revolution in biomedical research not only offers the possibility to functionally analyze basic biological mechanisms, but has also potential therapeutic applications, some of which have already been initiated. The use of the immunogene editing technique to devise novel treatment strategies for disease is likely to strongly increase during the coming years.
The topics of the workshop will include a series of presentations dealing with the basic technological aspects of the technique, various applications that enable functional in depth analysis of genes and gene products involved in immunity, as well as its potential clinical applications.
This technological workshop will teach attendees to master the different molecular and technical aspects of immunogene editing and, based on this revolutionary technique, to develop therapeutic strategies for the treatment of diseases involving the immune system, including autoimmunity, immuodeficiencies, cancer and transplant rejection.
The target audience includes, clinical fellows in disciplines related to immunology, fellows doing basic research with an emphasis on human disease, scientists from biotechnology and pharmaceutical companies who are involved in developing new therapies for immunological disease and PhD students.
We are looking forward to welcoming you at the Immunogene editing workshop of the SFI.
Ignacio Anegon,
Laetitia Gautrau-Rolland,
Hans Yssel
SPEAKERS
•

Anegon Ignacio (France)

•

Bacchetta Rosa (USA)

•

Concordet Jean-Paul (France)

•

Duchateau Philippe (France)

•

Lloyd Angharad (UK)

•

Louvet Cédric (France)

•

Mussolino Claudio (Germany)

•

Nguyen Tuan H. (France)

•

Parnas Oren (USA)

•

Paz Irit (France)

•

Pujol Nathalie (France)

•

Reina San Martin Bernardo (France)
Announcement poster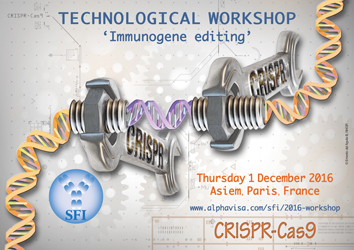 ---
COMMITTEE
Organizing Committee
Ignacio Anegon, Chairman (Nantes, France),
Laetitia Gautreau-Rolland (Nantes, France),
Claudine Schiff (Marseille, France),
Hans Yssel (Paris, France)
---
Become a member of the SFI and benefit from reduced registration fees:

---
Annual Meeting of the SFI