Welcome
GOALS
Developments of techniques in chemistry, physics, bioengineering, or big data analysis, in association with improvements in the understanding of biological mechanisms, yielded a bloom of new tools for experimental approaches in life sciences. In vivo, in silico and in vitro studies benefit from tools such as OMICs, organoids, bio-artificial organs, use of ex-vivo material, telemetry and non invasive measurements, imaging in vivo and on cellular material. They also make it possible to use both human and animal data, with clinical or epidemiological approaches, in pathological or healthy situations.
Sometools are so innovative that, beyond Replacing, Reducing or Refining existing approaches, they provide totally new information. Besides they offer opportunities to bridge presently separated scientific communities.
The European platform Ecopa is dedicated to the promotion of the 3R principle (refinement, reduction and replacement of animal experiments) and acts by:
Dissemination of results obtained in this field ;
Promotion of exchanges between the disciplines and especially between the four interested parties (associations, research, authorities, economic actors).
It has teamed up with its national French component FRANCOPA to organize this scientific symposium, which should illustrate the tremendous potential offered by the new tools for the investigation in life sciences. This symposium will allow the stakeholders from the four pillars of Ecopa to find new ways to structure the ethical debate on experiments, at a time where the new tools soften the distinction between experiment and observation, as well as they break some borders between disciplines.
ATTENDEES
Users of results in upstream and applied research, developers of methods, interested parties in product safety, in human and veterinary medicine, stakeholders NGOs on ethical research...
Following the symposium, a statement will be published.
Do you wish to register?
Online registration
---
Abstract and poster
Abstract submission for speaker and poster presentations: francopa@ineris.fr
For poster and
abstract format
---
Deadline
Registration:
25 October 2018
Abstract submission:
15 September 2018
---
Organizing Committee
Henri-Michel Baudet
Joseph-Paul Beaufays
François Busquet
Jean-Pierre Clot
Isabelle Fabre
Laure Geoffroy
Patrick Gonin
Philippe Hubert
Francelyne Marano
Eric Thybaud
Anne Tilloy
---
First announcement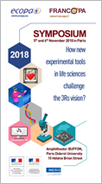 Download PDF