Welcome
Dear European Primatologists, dear colleagues and dear friends,

Bienvenue!

Welcome to the 7th European Federation for Primatology (EFP) Meeting!
Welcome in France and Welcome to Strasbourg, one of the European capitals! A whole symbol of collaboration!
This is the first time the EFP Meeting takes place in France and it is a great honour for the Société Francophone De Primatologie (SFDP) and the University of Strasbourg to be your host for these 4 days.
At a moment when Primates are facing major threats all around the world, we need more than ever scientific collaborations. Primatology, as a science, plays one of the main roles to solve issues. The European Federation for Primatology Meeting is very important in that way.
It is a unique opportunity to exchange and a source for next collaborations and inspiration for all of us.
The Scientific program is dense and diverse. The scientific committee invites you to make the most of a very good program this year. It will allow you to make your own choice and certainly share a lot of knowledge and experience with each other. The European primatology is worldwide and is involved in many aspect of the Primatology, health, conservation, ecology, social behaviour, communication, evolution, which promises a lot of rich brainstorming and exchanges…
Concerning the social program, I am sure you will enjoy the beauty, the warm and happy ambiance of Strasbourg, a young and dynamic city, rich of history. Thanks to the organisation committee we will have opportunities to spend good time together and extend our discussions until late in the day.
All our thanks go to the University of Strasbourg and the Centre de Primatologie for their very good organisation! On behalf of the Société Francophone De Primatologie and of the organisation and scientific committees, I am looking forward to welcoming you in Strasbourg.
Brice Lefaux,
Président de la Société Francophone De Primatologie
The 7th European Federation for Primatology Meeting
Organising Committee announces the
EFP 2017 Primate Art Contest!
More information here
---
---
Important dates
Call for abstracts:
2017-02-01 - 2017-03-24
Early Bird registration:
2017-05-15
---
Planning at a glance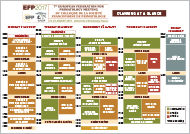 Download PDF
---
Announcement poster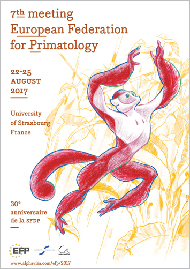 Download PDF
---
Association
Become a member of the SFDP and benefit from a free French speaking conference day on 21 August: