Welcome
Dear Colleagues and Members
of the French Society for Immunology,
This year the French Society for Immunology will celebrate its 50th anniversary and its Annual Meeting - SFI2016 *50* - will therefore be an exceptional event. We invite you to join the celebration!
SFI 2016 *50*, will take place at the Cité des Sciences at La Villette in Paris, from 28-30 November 2016. For this occasion, we have put together an exciting scientific program featuring presentations by more than forty renowned researchers in basic and clinical immunology. Joint sessions will be held with the German Society for Immunology (DGfI) and the Swiss Society for Allergology and Immunology (SSAI), whereas our third Women in Immunology Session will feature debates fueled by an outstanding female personality. A special Young Immunologist session has been organized and we have put special emphasis on providing young researchers with the opportunity to present their work, selected from submitted abstracts, during the parallel sessions. Prizes for the best oral and poster presentations will be awarded at the end of the meeting. A Continuous Medical Education session (DPC) in the field of clinical immunology has been scheduled on 28 November. The meeting will be followed by the traditional one-day 'atelier' workshop on 1 December 2016.
SFI2016 *50*, aims to bring together students, basic scientists, clinicians and practitioners to exchange and discuss current ideas, concepts and discoveries in the field of immunology.
We encourage you to participate actively in SFI2016 *50* by submitting abstracts and applying for fellowships and we are looking forward to welcoming you in Paris to be part of this unique event.
Sincerely,
Alain Fischer,
On behalf of the Organizing and the Scientific Committees
Announcement poster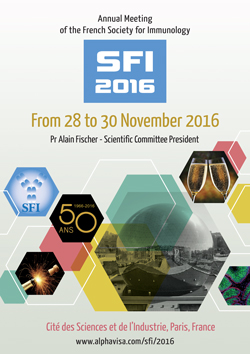 Deadline
Early bird registration:
3 October 2016
COMMITTEES
Organizing and
Scientific Committee
Meeting President:
Alain Fischer
Organizing Committee:
Ivana Balter
Anne Caignard
Laetitia Gautreau-Rolland
Paul Guglielmi
Anne Hosmalin
Maria Leite-de-Moraes
Claudine Schiff
Hans Yssel
Scientific Committee:
Sebastian Amigorena
Jean-François Bach
Françoise Barré-Sinoussi
Monsef Benkirane
Philippe Bousso
Michel Cogné
Pascale Cossart
James di Santo
Gérard Eberl
Pierre Golstein
Jules Hoffmann
Anne Hosmalin
Philippe Kourislky
Bernard Malissen
Claude-Agnès Reynaud
Geneviève de-Saint-Basile
Éric Vivier
Jean-Claude Weill
Laurence Zitvogel
Administrative Board of the SFI
President:
Hans Yssel
Secretary General:
Anne Caignard
Treasurer:
Paul Guglielmi
Members:
Ivana Balter
Laetitia Gautreau-Rolland
François Huetz
Régis Josien
Anne-Sophie Korganow
Myriam Labalette
Maria Leite-de-Moraes
Bach-Nga Pham
Benoît Salomon
Claudine Schiff
Véronique Witko-Sarsat
---
Become a member of the SFI and benefit from reduced registration fees: