Welcome to the 17th SFM National Conference
Dear friends and colleagues,
We are pleased to announce the 17th National Congress of the SFM 'La microbiologie dans tous ses états' which will take place at the Corum in Montpellier from 3 to 5 October 2022.
The scientific and organising committees, with the help of the sections and working groups, and of the Partners Societies, are already working on a rich and diverse program.
The topics that will be addressed during the congress are:
Bacteriology
Virology
Mycology-Parasitology
Clinical microbiology
Fundamental Microbiology
Microbial Pathogenesis
Microbiota
Antimicrobial agents and resistance
Food Microbiology
Microbial Biotechnology
Biosafety
Environmental Microbiology
One Health
Pedagogical innovations in microbiology
Technological innovations in microbiology
Do not forget to note the date of the congress and to block it in your diaries.
Yours sincerely,
Gérard Lina,
President of the SFM
---
As announced by the President of SFM, we present to you for Microbes 2022… 'La microbiologie dans tous ses états'. An immersion in microbiology in the heart Montpellier, cradle of medicine, where the oldest faculty of medicine in the western world was born.
In addition to a very attractive program, you will have the opportunity, before and after the congress, to take a slight 'side step' to enjoy the many activities in the historic centre, just a few minutes away from the Corum, Montpellier's congress centre.
A rich and diverse program, dense, for sure, and exciting, thanks to the invited contributors, your oral presentations and your abstract that we will receive until summer 2022. Without prejudging what the scientific program will be, the national and local Organising Committees have taken care to satisfy the wishes you expressed at the end of Microbes 2021, with plenary sessions and numerous parallel sessions, reflecting microbiology in all its diversity. The Microbes 2022 program that we are proposing to you will therefore be strongly inspired by that of the previous Microbes 2021 congress in Nantes, with the following highlights:
'Carrières en Microbiologie' forum for young microbiologists
Thesis and poster prizes
The voice of industry
The photo competition
The educational area
Welcome to Montpellier and Microbes 2022… 'La microbiologie dans tous ses états'.
The national and local organising committees.
Abstract submission
---
Important dates
Abstract submission until:
22 June 2022
PhD thesis 2022, closing date for application file: 30 June 2022
Early bird registration until:
31 July 2022
Photo contest, photos submission deadline:
23 September 2022
---
Thesis Awards and
Scholarships 2022
---
Announcement poster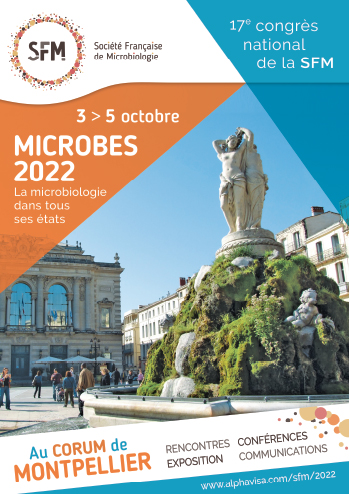 ---
3e Forum "Carrières en Microbiologie"
Monday 3 October 2022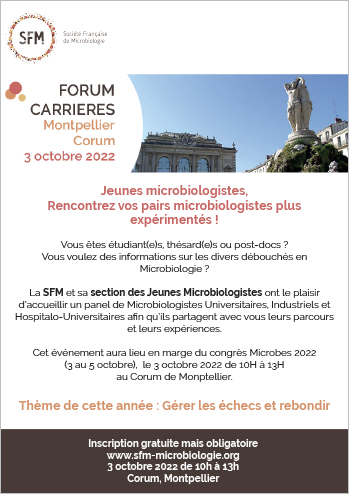 ---
Become a member of the SFM and benefit from reduced registration fees: