Welcome to the 18th SFM National Conference
Dear friends and colleagues,
We are pleased to announce the 18th National Congress of the SFM 'Un monde à explorer' which will take place at the 'Couvent des Jacobins' in Rennes from 4 to 6 October 2023.
The scientific and organising committees, with the help of the sections and working groups, and of the Partners Societies, are already working on a rich and diverse program.
The topics that will be addressed during the congress are:
Microbial Pathogenesis
Epidemiology and Population Genomics
Food Microbiology
Environment
Clinical microbiology
Antimicrobials
Virology
Biodiversity and evolution
Microbial Biotechnology
Pedagogical innovations
Mycology / Parasitology
Biosafety and security 'Parcours Charles Mérieux'
Risk modeling / AI
Do not forget to note the date of the congress and to block it in your diaries.
Yours sincerely,
Sonia Burrel,
President of the SFM
---
As announced by the President of SFM, Microbes 2023 will be the opportunity for the greatest number of people to approach 'A world to explore'. And for this exploration of the infinitely small, we will welcome you at the Couvent des Jacobins, a magnificently restored medieval architectural setting in the heart of Rennes, capital of Brittany... and of Microbiology for 3 days! Come and join us in great numbers!
The scientific program will undoubtedly be captivating, but you will also have the possibility, aside from the congress, to escape to enjoy the animation of the old Rennes, its student life and the local specialities. There is something for everyone!
This world to explore is vast and the program will certainly be rich, diverse and exciting. As every year, the quality of the invited speakers and your own oral presentations will contribute to this great program. We will receive your abstracts until summer 2023. The scientific program will therefore be built with you, and the national and local Organizing Committees have taken care to satisfy the wishes you expressed at the end of Microbes 2022. The plenary and parallel sessions will reflect the extent of the microbial world. The Microbes 2023 program will include the highlights of the previous editions, in Nantes and Montpellier, including:
'Carrières en Microbiologie' forum for young microbiologists
Thesis and poster prizes
The voice of industry
The photo competition
The educational area
Welcome to Rennes and to Microbes 2023... 'Un monde à explorer'
Degemer matt e Roazhon ! Mikrobioù 2023, "ur bed da ergezhout".
The national and local organising committees.
---
Important dates
Abstract submission until:
22 June 2023
PhD thesis 2023, closing date for application file: 30 June 2023
Early bird registration until:
31 July 2023
Photo contest, photos submission deadline:
8 September 2023
---
Thesis Awards and
Scholarships 2023
---
Announcement poster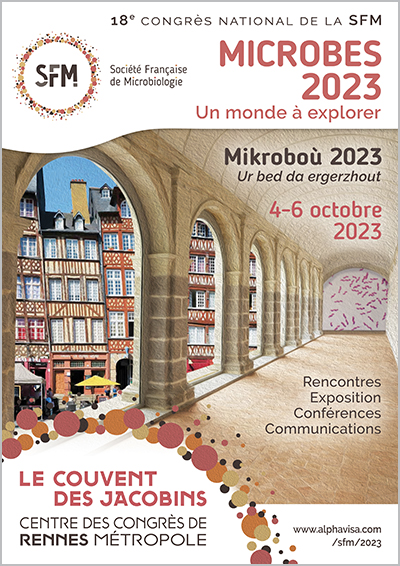 ---
4e Forum 'Carrières en Microbiologie'
Wednesday 4 October 2023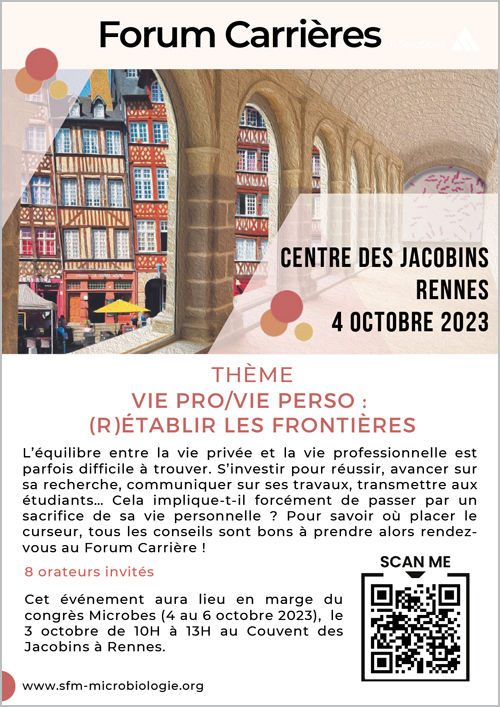 ---
Become a member of the SFM and benefit from reduced registration fees: