Welcome to the 15th SFM National Conference
Dear friends and colleagues,
We are pleased to announce the 15th National Congress of the SFM, with a new name 'MICROBES'. It will take place from 30 September to 2 October 2019 at the Cité des sciences et de l'industrie, Paris 19ème, France.
Our objective is to bring together all the actors involved in microbiology. This year our program was organized in partnership with 12 associations and scientific societies:
French:
Association Française de Cytométrie,
Association Francophone d'Écologie Microbienne,
Association pour la REcherche en Toxicologie,
Société de Toxicologie Cellulaire et Moléculaire,
Collège de Bactériologie, de Virologie et d'Hygiène des Hôpitaux,
Société Française d'Immunologie,
Société Française de Mycologie Médicale,
Société Française de Virologie,
Société Française de Parasitologie,
Société Française de Pharmacologie et Thérapeutique,
Groupe de travail au sein de la Société de Pneumologie de Langue Française,
Fédération Française des Biotechnologies,
Instituts Thématiques Multi-Organismes I3M;
European:
Swiss Society for Microbiology;
and American:
American Society for Microbiology.
The sessions explore the different faces of scientific and medical microbiology, with the following themes:
Antimicrobial agents
Clinical Microbiology
Food Microbiology
Environmental microbiology and microbial ecology
Industrial microbiology and biotechnology
Microbiota and toxicology
Microbial pathogenesis and fundamental microbiology
The SFM and its partners would like to see many of you, especially young researchers or hardened microbiologists, in order to ilustrate the attractiveness of our scientific societies and the dynamism of our research. For the youngests, we offer travel grants and university thesis prizes.
This year again, the diversity and richness of the exchanges will mark these days.
We are therefore already looking forward to seeing you in 2019 for this essential microbiology event.
Gérard Lina,
President of the SFM
Abstract submission
---
Thesis Awards and
Scholarships
---
Deadline
Deadline for abstract submission: 1st July 2019
Early bird registration:
1st July 2019
PhD thesis, closing date for application file: 30 June 2019
Photo contest, photos submission deadline:
9 September 2019
---
Planning at a glance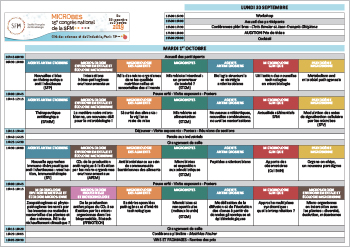 Download PDF (in French)
---
Announcement poster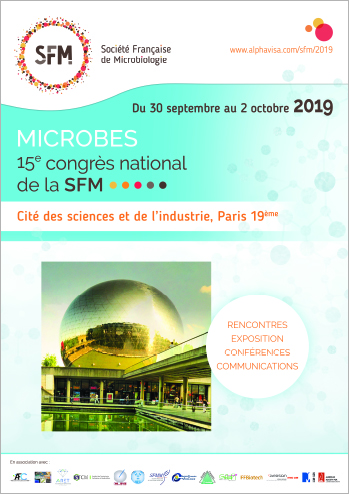 ---
Become a member of the SFM and benefit from reduced registration fees: