Welcome
Dear Colleagues,
On behalf of our French Organising Committee and the TEAM Steering Committee, we cordially invite you to join us for the 4th International TEAM (Working Group on Tephritidae in Europe, Africa and the Middle East), meeting to be held from 4-8 October 2020, in La Grande-Motte, France.
The founding idea for TEAM was based on the strong interconnections (ecological, cultural and economic) that exist between the three regions, and the need to exchange information and knowledge on fruit flies that are common to these regions. Organizing a meeting every four years to bring together delegates has now become a tradition, with previous meetings that took place in Spain (2008), Greece (2012) and South Africa (2016).
As during these previous occasions, this TEAM symposium will provide opportunities for interaction between academia, researchers, extension and industry specialists, who will present their latest scientific results and deliberate on a number of pertinent issues on fruit fly biology, ecology and control. As last time no particular theme is selected for this symposium, but all relevant topics and major items will be addressed in specific sessions, in order to have a broad forum for all to present their recent findings. In addition to the topics relating to the "true" fruit flies, Tephritidae, attention and room for presentation of research results will also be given to the drosophilid fruit fly Drosophila suzukii. This because of the overlap and common interest with regard to damage in the fruit industry, pest control, invasion biology and the general importance of this invasive pest to the region. Not only will this event broaden the knowledge base of all concerned, but it will also enhance the synergies between the different institutions of the three regions and business sectors.
The venue takes place in the southern part of France, one of the main fruit production areas in the country. The site of the meeting, La Grande-Motte, is beautifully situated at the Mediterranean Coast and is characterized by a very particular architecture. We do hope that it will be a successful and memorable meeting for all of you who will join us here in "La douce France".
Regards,
Valérie Balmès
Chairperson:
Organising Committee, TEAM 2020
Marc De Meyer
Chairperson:
Scientific Committee, TEAM 2020
TOPICS
Taxonomy and systematics
Behaviour and Physiology
Chemosensory perception and reproduction
Biogeography, distribution and abundance
Invasion
Biological and conventionnal control
Traps and attractants
SIT : Sterile Insect Technique
IPM : Integrated Pest Management
Surveillance and response
---
Deadlines
Early bird registration:
29 May 2020
Deadline for abstract submission:
15 May 2020
---
COMMITTEES
Organising Committee
ANSES-LSV "Entomology and invasive plants unit":
• Valérie Balmès, Chairperson
• Raphaëlle Mouttet
CIRAD Réunion - UMR "Peuplements Végétaux et Bio-agresseurs en Milieu Tropical":
• Hélène Delatte
CIRAD UMR CBGP département BIOS:
• Bruno Michel
INRA-CBGP - Fruit-Fly Evolution and Community Ecology (FFECE):
• Simon Fellous
French Ministry of Agriculture, National expert for tropical crops - invasive alien species:
• Pierre Ehret
Royal Museum for Central Africa, Belgium:
• Marc De Meyer
Scientific Committee
• Marc De Meyer, Belgium
• Zinette Moussa, Lebanon
• Helene Delatte, France
• Yoav Gazit, Isreal
• Aruna Manrakhan, South Africa
• Maulid Mwatawala, Tanzania
• Antonis Augustinos, Greece
• Vicente Navarro Llopis, Spain
• Francesca Scolari, Italy
• Antonio Sinzogan, Benin
---
Planning at a glance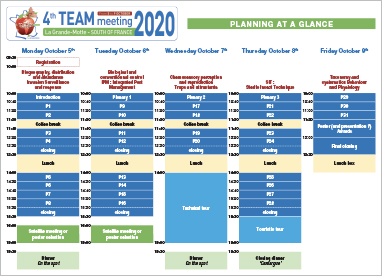 Download PDF
---
Announcement poster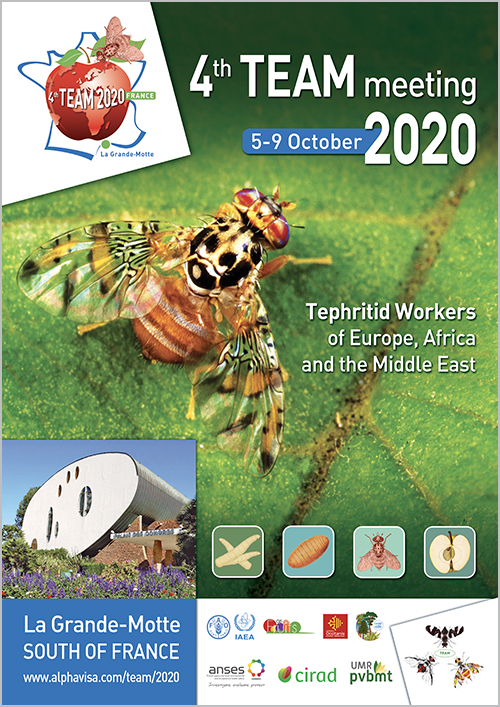 Download PDF