Access to the Meeting venue
Meeting venue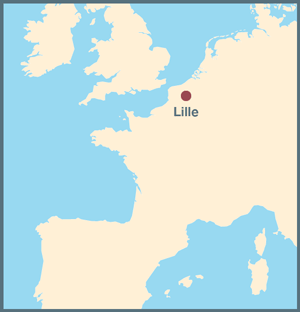 Institut Pasteur de Lille
1 rue du Professeur Calmette
59800 Lille - France
Tel: +33 3 20 87 78 00
Access map Institut Pasteur of Lille
Come on foot
From 'Lille-Flandres' railway station, take the avenue Charles Saint-Venant, go straight on towards the rue Saint-Sauveur and the rue Frédéric Mottez. Cross the boulevard Louis XIV and take the rue du Professeur Calmette (opposite).
Travel by public transport
Metro:
Line 2: Lomme Saint-Philibert < > Tourcoing CH Dron: stop at 'Lille Grand Palais' station.
Cross the boulevard Louis XIV, turn right and take the rue du Professeur Calmette at the end of the building on the left.
ilévia information: www.ilevia.fr
How to reach the Meeting venue
By car
Institut Pasteur of Lille is easily accessible.
Follow the signs for Lille-Centre on the East ring-road.
Exit at junction 2b (Centre Ville).
Take the boulevard Louis XIV followed by the rue du Professeur Calmette.
Your itinerary: GoogleMap - Michelin
By plane
Lille-Lesquin international airport
Located 10 km from Lille city center, the airport serves more than 70 domestic and international destinations.
Direct flights to: Bordeaux, Lyon, Marseille, Nantes, Nice, Strasbourg, ...
Indirect flights to: Ajaccio, Barcelona, Berlin, Bologna, Brest, Casablanca, Frankfurt, Geneva, Lisbon, Madrid, Milan, Porto, Prague, Rome, Venice, Zurich, ...
Tel: +33 320 496 747 from abroad - lille.aeroport.fr
A shuttle connects the airport to the city center (stop in front of Euralille shopping center).
Travel time: 20 min. Rates : € 8 one way - € 10 return.
Air France
Tel: +33 (0)892 702 654 from abroad - www.airfrance.fr

You can benefit from the special congress rate (35% to 60% of the Air France rate depending on availability) if you book via the following link:
http://globalmeetings.airfranceklm.com/Search/promoDefault.aspx?vendor=AFR&promocode=36143AF
By train
There are two train stations in Lille, located 400 meters away from each other in the city center and served by the metro and tramway.
Both stations are within 5 min walking distance from Institut Pasteur of Lille.
Lille Flandres station: Direct TER (express regional train) and TGV (highspeed train) to Paris.
Lille Europe station: Eurostar to London and Brussels, direct TGV to Roissy-Charles De Gaulle airport, Paris and all main French cities.
Examples of travels:
Brussels: 38 minutes, 14 TGV and Eurostars per day
Paris: 1h, 26 direct TGV per day
London: 1h20
Lyon: 3h, 11 direct TGV per day
Rennes: 3h50, 4 direct TGV per day
Marseille: 4h30, 6 direct TGV per day
Bordeaux: 5h, 6 direct TGV per day
Montpellier: 5h, 5 direct TGV per day
For more information: www.oui.sncf (French railway)