Meeting venue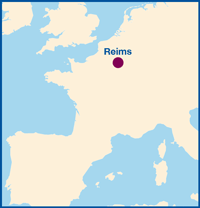 Centre des Congrès
12, boulevard du Général Leclerc
51722 Reims cedex - France
Tel: +33 (0)3 26 77 44 38
Access map
Pedestrian access from Parc de la Patte d'oie
By car
Motorway crossroad between:
A4 - E50 (Paris - Strasbourg-Germany)
A26 - E17 (Lille - Lyon-Méditerranean)
A34 - E46 (Ardennes - Belgium)
Your itinerary
Google Maps: www.maps.google.fr
Michelin: www.viamichelin.fr
By train
SNCF (French railway)
Reims, 45' from Paris and 30' from Roissy Charles De Gaulle with 'TGV Est Européen'
(high speed train).
2 TGV stations:
Gare TGV 'Reims centre' (short walking distance from the Congress Centre):
- 8 trains to/from Paris in 45'
Gare TGV 'Reims-Champagne-Ardenne' in Bezannes (5 kms from city centre):
- 3 trains to/from Paris in 40'
- 9 links with the national network
(Roissy Charles De Gaulle - 30', Marne la Vallée - 30', Massy - 1:00, Strasbourg - 1:50,
Nantes - 3:15, Rennes - 3:17, Bordeaux - 4:36, Londres - 4:10, Lille - 1:34)
SNCF (in French): www.tgv.com
SNCF (in English): www.tgv-europe.com
By plane
Roissy Charles De Gaulle airport: 30' by TGV
Paris-Orly airport: 1:30 by shuttle
Paris-Vatry airport: 1:00 by shuttle
Paris airports: www.aeroportsdeparis.fr

You can benefit from the special congress rate (35% to 60% of the Air France rate depending on availability) if you book via the following link:
www.airfranceklm-globalmeetings.com/?eid=18624AF
By urban transportation
Bus or tramway: www.citura.fr
Car parks
Car parks of the Centre des Congrès: www.reims-evenements.fr

Visitor underground car park: 228 spaces. Access from Boulevard Noirot.
Exhibitor and coach outdoor car park: 75 spaces. Access from Boulevard Noirot.
Pedestrian entry from the Parc de la Patte d'oie, boulevard Général Leclerc.