Welcome
Dear Colleagues and Members of the SFI and the AFC,
We are pleased to invite you to the Annual Meeting of the French Society for Immunology (SFI) co-organized with the French Cytometry Association (AFC) that will be held at Reims from 7 to 9 November 2017.
Reims, the capital of champagne and the city of the coronations of kings of France, is proud to host for the first time the annual congress of the SFI and welcome again the annual congress of the AFC. This joint meeting will take place at the Centre des Congrès, in a venue steps away from city center and near the prestigious houses of Champagne.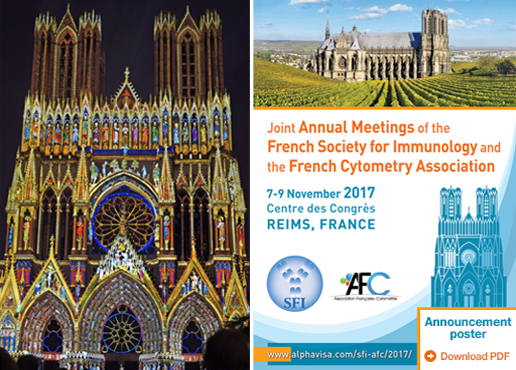 The scientific program will propose a wide range of topics: fundamental immunology, immune therapy, hematology, infectious diseases, vaccinology, autoimmunity, allergology... In particular, this congress will focus on medical immunology. The neutrophil club will organize its 2nd meeting. In addition to society-dependent specific sessions, joint sessions for SFI and AFC will be organized in order to offer the opportunity to discuss both scientifically and technically.
We have put special emphasis on providing young researchers with the opportunity to discuss their work through abstracts that will be selected for posters or for oral presentations. Prizes for the best oral and poster presentations will be awarded at the end of the meeting.
We encourage you to participate actively in this annual congress by submitting abstracts and applying for fellowships and we are looking forward to welcoming you in Reims to be part of this unique event.
Sincerely,
Bach-Nga Pham (SFI) and Richard Le Naour (AFC)
On the behalf of Organizing and Scientific Committees
1re Journée de la Fédération d'Immunologie
Monday 6 November 2017
Deadline
Deadline for abstract submission:
27 September 2017
Early bird registration:
2 October 2017
COMMITTEES
Organizing Committee
Bach-Nga Pham
Organizing Committee President
Richard Le Naour
Organizing Committee
Vice-President
Sandra Audonnet
Amélie Servettaz
Dominique Ploton
Christine Terryn
Jean Michel
Frank Antonicelli
SFI Scientific Committee
Hans Yssel
SFI President
Paul Guglielmi
Bach-Nga Pham
Véronique Witko
Benoit Salomon
Hervé Watier
AFC Scientific Committee
Lydia Campos
AFC President
Marielle Bouix
Ludivine Chapat
Catherine Blanc
Muriel Andrieu
Planning at a glance
Download PDF
---
Become a member of the SFI or AFC and benefit from reduced registration fees: