Welcome
Dear Colleagues and Members of the French Society for Immunology,
We are pleased to invite you to the Annual Meeting of the French Society for Immunology that will be held in Nantes from 12 to 14 November 2019. The venue of the meeting will be La Cité-Nantes Events Center, closely located to the historic city center.
The meeting will be composed of 6 plenary sessions dealing with diverse themes of present and future immunology: Systems Immunology, Immunoregulation, Cancer Immunology, Innate Immunity, Immunometabolism and interactions between the Microbiote and the Immune System. It will furthermore include fifteen parallel sessions, in addition to workshops of existing and recently created Clubs of the French Society for Immunology: Germinal Centers Club, NeuroImmunology Club and Mast Cell/Basophil Club. A joint session has been scheduled with the German Society for Immunology (DGfI). A special session emphasizing medical immunology has been organized at the end of the meeting, followed by the Journée de la Fédération d'Immunologie on 15 November.
The involvement of young researchers in the organization of and participation in the meeting has been strongly encouraged. In addition, a plenary Young Immunologists session will enable promising young students and postdoctoral fellows to present their work whereas each session featuring oral communications selected from abstracts will be co-chaired by young immunologists. Finally, prizes for the best oral and poster presentations will be awarded at the end of the meeting.
Nantes is home to the castle of the Ducs de Bretagne and has several historic districts within its city limits, as well as an important cultural heritage, including the presence of theater companies like Royal Deluxe and Les Machines de l'Ile.
We encourage you to participate actively in this annual meeting by submitting abstracts for oral and poster presentations.
We are looking forward to welcoming you in Nantes.
On the behalf of Organizing and Scientific Committees
SPEAKERS - Plenary Sessions
•

Derk Amsen (The Netherlands)

•

Luciana Berod (Germany)

•

Alexandre Boissonnas (France)

•

Julien Diana (France)

•

Simon Fillatreau (France)

•

Mihai G Netea (The Netherlands)

•

Christophe Hess (Switzerland)

•

Francine Jotereau (France)

•

Agnès Lehuen (France)

•

Nicolas Manel (France)

•

Miriam Merad (USA)

•

Anne Müller (Switzerland)

•

Thomas Pradeu (France)

•

Caetano Reis e Sousa (UK)

•

Vassili Soumelis (France)

•

Véronique Thomas-Vaslin (France)

•

Éric Vivier (France)

•

Laurence Zitvogel (France)
PLANNING AT A GLANCE
Deadline
Deadline for abstract submission:
16 September 2019
Early bird registration:
23 September 2019
COMMITTEES
Organizing and Scientific
Local Committee
• Laetitia Gautreau-Rolland
• Gilles Blancho
• Nicolas Boisgerault
• Céline Bressollette-Bodin
• Sophie Brouard
• Sarah Bruneau
• Elise Chiffoleau
• Nicolas Degauque
• Matthieu Giraud
• Régis Josien
• Nathalie Labarrière
• Cédric Louvet
• Renato Monteiro
• Amédée Renand
• Christelle Retière
• Antoine Roquilly
• Abdelhadi Saoudi
• Delphine Sauce
• Xavier Saulquin
• Sylvain Simon
• Julie Tabiasco
• Hans Yssel
Administrative Board of the SFI
President:
• Renato Monteiro - Paris
General Secretary:
• Laetitia Gautreau-Rolland - Nantes
Treasurer:
• Aude Magerus - Paris
Councillors of the SFI
• Ivana Balter - Paris
• Sophie Brouard - Nantes
• Régis Josien - Nantes
• Claude Leclerc - Paris
• Lennart Mars - Lille
• Hélène Moins - Paris
• Jacques Nunes - Marseille
• Abdelhadi Saoudi - Toulouse
• Delphine Sauce - Paris
• Loredana Saveanu - Paris
• Julie Tabiasco - Toulouse
• Véronique Witko-Sarsat - Paris
---
Announcement poster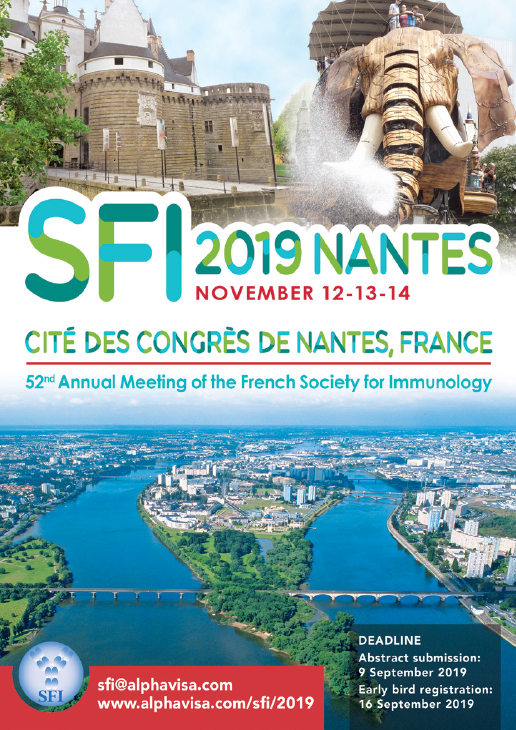 Download PDF
---
Become a member of the SFI and benefit from reduced registration fees: