Why French Riviera and Antibes Juan-les-Pins
Ideally located at the heart of the Côte d'Azur
France and French Riviera in particular, is internationally recognized as a very popular and interesting destination, with unparalleled hospitality and beautiful scenery. This reputation often leads to increased conference attendance, by delegates and accompanying persons.
In the heart of one of the Côte d'Azur's most beautiful tourist sites, superbly located at the foot of the Southern Alps on the Mediterranean coast between Nice and Cannes, Antibes Juan-les-Pins will reveal its charms, impressing even the most demanding visitors.
Its many advantages, including its Provencal culture, Mediterranean climate, 'Jazz à Juan' festival and world-renowned tourist resorts, make this second largest town of the Alpes-Maritimes department a very popular destination.
With one of Europe's largest ports, Nice Côte d'Azur International Airport and Sophia Antipolis high-technology cluster, which is now a leading Research & Development centre, the town is of national and international importance.
With more than 27.000 students, the University Nice Côte d'Azur (UCA) is a multi-disciplinary university, present in all international rankings, and was recently selected to be in the elite circle of the top ten research-intensive French universities.

History & Culture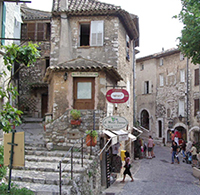 The rich history of Antibes Juan-les-Pins spans through the millenia. Ligurians, Ionians, Phoenicians and Etruscans knew of this exceptional area, even before the Greeks installed a trading post there in the 5th Century BC.
Filled with privileges by the Romans, a pontifical and royal city, the last French stronghold before the County of Nice and Italy, Antibes occupied a highly strategic position. Louis XIV entrusted its development to Vauban who undertook the plans of the new ramparts and made new arrangements to the Fort-Carré developed by Henri II.
The Twentieth Century would provide the opportunity for exceptional expansion for the city. After the annexation of the County of Nice by France, and the creation of the Alpes-Maritimes Department, the demolition of part of the old ramparts allowed further modifications to the city.
The astounding technological changes, such as the railroad and the automobile, the creation of the beach resort of Juan-les-Pins and the prodigious touristic development of the Côte d'Azur, made the ancient Antipolis, Alpes-Maritimes' second city, rich in its exceptional past and promising future.